RAINBOW GALSS DIP PEN: Made of high borosilicate glass, never to worry that it will be scratched. Exquisite spiral pattern and tiny colorful decorative sequins inside increase the high grade of glass pens. Each pen is hand-crafted and unique.Gorgeous and cute decoration on your desk as well. Suitable for all sorts of ink color.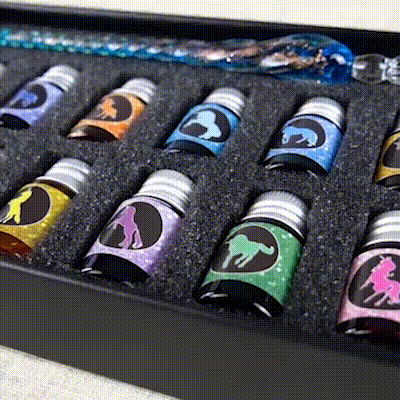 1-12 VIBRANT COLORS INK: 1-12 colors of ink contain gold powder enable your creation more incredible. If you are looking for an ink which is shimmering, highly reflective colors and lightfast, works for illustration, calligraphy pens, dip pens, this ink set would be your best choice. Shake the ink bottle well before use. Pen holder and glass cleaning cup are included.
EASY AND SMOOTH IN WRITING: Easily rinse clean with water, so you can quickly switch between different inks colors without having to refill a fountain pen. Just 10 seconds cleaning before switching colors.
SAFE TO USE, NO LEAK: Imported ink and gold powder are extracted from harmless materials. Safe to write, draw or touch. Each bottle comes with a leak-proof gasket to help prevent ink from leaking.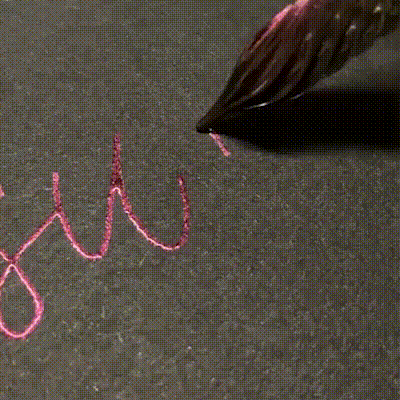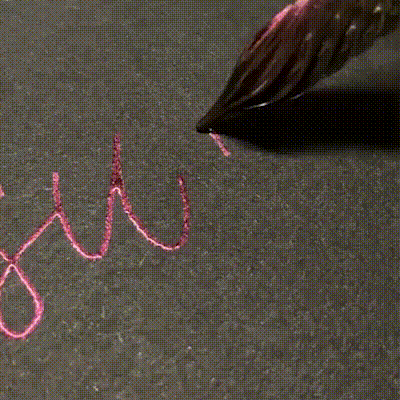 PEN GIFT SET: The calligraphy glass pen and ink set exquisite design, a popular gift for your families and friends in christmas, thanksgivng day, birthday and so on, perfect sign pen in wedding, events or parties. 
Handmade Glass Dip Pen Set
Glass pens have a nice flow that will give you an honest and direct experience with your ink. That is why glass dip pens are ideal for testing new ink colors. As long as you have a bottle of ink handy, these pens are ready to capture your thoughts anytime. This glass pen is possible to draw, not just write. Its exquisite appearance and simple cleaner step will promote your taste and status.
Features
Every word you write down with it appears an air of elegance. How delightful it will be!
Multifucntion. Can be used to study and practice, to sign the document, to sign the agreement. Can be used in write short essays, signature, practising hand writing, calligraphy.
Makes an excellent addition to any office and is bound to be deeply appreciated.
Wonderful gift for writers of all ages.
Delicate Ornament of Gold Powder
The ink included in our glass pen set contains ornate gold powder, to enable your handwriting or painting more awesome. Gold can give a sense of nobleness, and the glittering metallic color can not be expressed by ordinary color inks.
With non-carbon composition, our inks are of high purity and excellent fluidity, which enable your fluent and smooth writing, hard to discolor or fade after a long period
Note: The gold powder will precipitate when long storage. Please shake the bottle before use to make gold powder mix evenly with ink.
Using Tips
1. Dip the pen slightly in an ink bottle. (Note: Tip should be only partially submerged to avoid ink blots.)
2. Glide tip against the ink bottle opening to drain excess ink. When ink no longer drips down from the nib it is ready to write with.
Fluent Writing
The nip of glass pen adopts the capillary principle - absorbing the ink along the spiral groove to the tip, then flowing to the paper by the tension of water when writing. Therefore, a good glass nib is the key to maintain a smooth ink for a long time, easy to clean and not to dye the point.
The spiral nib is designed to increase ink adsorption and extend the writing time, made of high borosilicate material and heat-resistant glass. Moreover, the less the impurities, more glittering the pen will be, so the craftsmanship to exert its best is more about a craftsman's capability