How can you gift a touch of magic to your loved one's Christmas?
By gifting them vibrant, head-turning hair colors that redefine their look!
A revolutionary hair coloring solution that not only covers those pesky gray hair but also pampers your hair with gentle, plant-derived ingredients. This innovative hair dye is here to transform your hair coloring routine, making it easier and more enjoyable than ever before.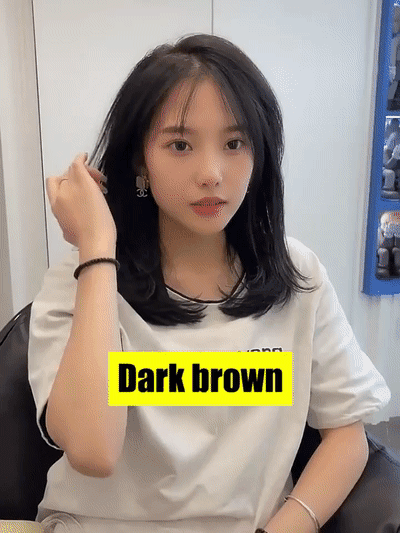 FEATURES
Cover Gray Hair with Confidence
Say goodbye to the worry of visible gray hairs! Our Plant Extract Bubble Hair Dye is designed to provide excellent coverage for gray strands. Whether you have a few grays or many, the results will leave you with beautifully colored hair that hides those unwanted grays, leaving you looking and feeling your best.
Effortless Bubble Hair Dyeing
Hair coloring has never been this easy! Thanks to the unique bubble formula, you can now dye your hair while washing it. It's as simple as applying your shampoo. The rich, foamy bubbles evenly distribute the dye, ensuring consistent and beautiful color results. No more messy applications or uneven color patches – just pure simplicity and convenience.
Redefine Your Hair Color
Want to switch up your look or refresh your existing hair color? Our Plant Extract Bubble Hair Dye is perfect for reshaping your hair color. Whether you're going for a subtle change or a bold transformation, you can achieve the results you desire. The wide range of available shades ensures that you can find the perfect color to match your style.
Gentle Ingredients from Nature
Your hair deserves the best, and that's exactly what our hair dye provides. Our formula is crafted with mild ingredients extracted from plant extracts, making it safe and gentle on your hair and skin. You can enjoy vibrant hair color without the worry of harsh chemicals causing damage. Plus, the nourishing properties of these plant extracts leave your hair feeling soft and healthy.
Operating Steps
Step 1: Wear gloves and squeeze out an appropriate amount of product
Step 2: Apply the product evenly to the hair, massage and rub for 5 minutes. If there is gray hair, rub for 2-3 more minutes
Step 3: Leave it on your hair for 15-20 minutes (can be adjusted according to needs)
Step 4: Rinse thoroughly with water and dry your hair with a towel
Hair Dye Dosage Reference:
Short Hair - Half Box
Medium Length Hair - 1 Box
Long Hair - 2 Boxes
SPECIFICATIONS
Color: Natural Black, Chestnut Brown, Coffee, Brown Black, Wine Red
Net Content: 200ml
Shelf Life: 3 Years